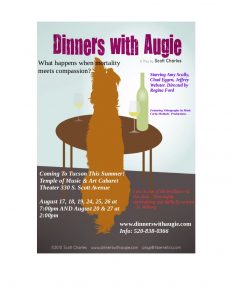 What happens when mortality meets compassion? DINNERS WITH AUGIE!
Dinners With Augie is returning to the stage! Please join us August 2017 at the beautiful Temple of Music And Arts Cabaret Theater.
Dinners With Augie will be on stage August 17-19th, 24-26th at 7pm and August 20th and 27th at 2pm. The Temple of Music And Arts Cabaret Theater is located at  330 S. Scott Avenue Tucson AZ.
Starring Jeff Webster as "Arthur", Chad Eggen as "Dr. Mauro",  Amy Scully as "Dani."  Directed by Regina Ford.
Special thanks to Mark Corby at Media41 for videography services and Graphic Design by Mary Casey.
SEE BELOW FOR TICKET INFORMATION.  (And remember: discounts available for Seniors, Students, Military and Groups!) Visit us on on Facebook! Call 520.838.0366 or email at libernet@yahoo.com.

DINNERS WITH AUGIE CAST & CREW:
Jeff Webster, "Arthur"
Arthur Valentine is Jeff's favorite role among his many previous characterizations. He premiered the role in 2011 in Sacramento, California and reprised it in 2015. To Jeff, "Dinners With Augie" captures many aspects of the human experience – love, loss and the search for redemption. When he's not milking applause on stage or looking for film roles, he keeps busy as a volunteer, freelance writer and birding enthusiast. Jeff dedicates this performance to Susan (Arthur's Diane), his patient and supportive wife of 48 years. He also thanks playwright Scott Charles and director Regina Ford for this opportunity to bring Arthur to life once more. Semper Paratus!
Chad Eggen, "Dr. Mauro"
Chad Eggen was born in the Midwest and now resides in Arizona with his family. He spent a year attending Mount Miguel high in Spring Valley, California, where he became interested in the theater. He attended Southwest Minnesota State University in Marshall, MN where he graduated with a Bachelor of Arts in Theatre with an emphasis in acting. Along with acting on stage, film, and TV, Chad enjoys doing voice over work.
Amy Scully, "Dani"
Amy is honored to perform with her friends and mentors in this delightful play about love, life, and friendship. Earlier this year Amy had the pleasure of performing in various roles with other Tucson theater companies/organizations and her most challenging to date was Cassius in an all female performance of Julius Caesar with Winding Road. This year you will be able to see Amy perform in Luna Gale at St. Francis in the foothills and in multiple productions at Road Runner Theater on the eastside of Tucson. Thank you for supporting local artists and Tucson theater. "A dog will teach you unconditional love. If you can have that in your life, things won't be too bad." –Robert Wagner 
Regina Ford, Director
Regina Ford has been involved in theater for at least 40 years, could be more. Probably more. Her stage career featured many roles in Neil Simon vehicles, first as a passenger, then a driver. Other major renderings include "Night of the Iguana," "Willie Wonka," and "Nunsense." She worked behind the scenes during the filming of the hit movie "Tin Cup" at the Tubac Golf Resort, and for many years was the executor for Anton Chekhov's estate.  She is thrilled to be part of "Dinners With Augie" and hopes to direct other plays in the near future. Or soon. Whichever comes first.
Augie Himself 🙂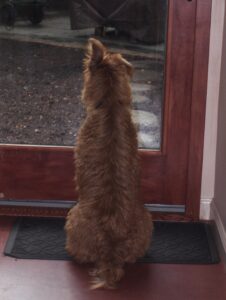 TICKETS: First, select the show date you wish you attend. If you have a promo code, click on "password or discount code" and enter the promo code in the box. Then select "Show Available Tickets." Please note: discount codes only apply to full price tickets. If you have any questions please call us at 520.838.0366 or email at libernet@yahoo.com.
Brown Paper Tickets Ticket Widget Loading…
Click Here
to visit the Brown Paper Tickets event page.