"Dinners With Augie" had another great run in June 2015! Staged at two incredible venues, Antiquite Maison Privee Midtown and The Jean Runyon Little Theater, the shows raised $2750 for three charities: Team Will, East Sac Give Back and Front Street Animal Shelter.Many thanks to Grateful Dog Daycare, Sac On The Move, Legacy Law Group, Dr. and Mrs. Jerome Daby, Mr. and Mrs. R.S. Suter, and Incredible Pets for their generous support.
Produced byBlue Panther Productions,Directed by E.M. Hodge,starring Jeff Webster, Dustin Miller and Yuri Tajiri. Many thanks to Nathan Dan for creating a fantastic trailer!
Many many thanks to the cast and crew. It was a pleasure to see the show on the stage again and a wonderful experience working with such talented and gifted people. And a big thanks to the audience — we are honored by your support.
Make sure to visit us on Facebook!
Testimonials from the cast and crew:
JEFF WEBSTER, "Arthur"
I loved playing Arthur Valentine."Dinners with Augie" is a beautifully written, intimate play. It features three characters who are genuine, open and caring. The story honors the life we have, and the lives of those who have passed on, including, of course, Augie.
AsArthur Valentine's life flashes before his eyeshe confronts love, grief, joy, fear, and a longing for "how it used to be." These aresuch universal feelings that the play appeals to a wide variety of theater-goers. Our audiences were comprised of young and old, avid theater aficionados and those who rarely see live stage performances. All seemed to be affected and thankful for the experience.
My feeling on stage was that the audience was one-hundred percent involved in the play. They were totally into it! I asked several audience members if they had bought into the story — and the answer was always, "Absolutely!" That is a tribute to a well-written script, a detail-oriented producer, thoughtful direction, excellent performances by my cast-mates and desire by all to do justice to this story.
DUSTIN MILLER, "Dr. Mauro"
When I first got the script for Dinners with Augie the first thing that drew my attention was the excellent writing. Scott has a very beautiful way of interpreting relationships with such unique yet very normal characters. After hearing that Elise Hodge was going to be directing this great play I was excited. I had previously been in a production with Elise as a cast mate and it was a lot of fun and we got to know each other very well so I was excited to be directed by her.
Jeff Webster is an incredible force of nature (as an actor and a person), we both had so much fun together and established a genuine friendship. Yuri did a fantastic job as well playing the nurse and Dr. Mauro's love interest.
Dinners with Augie is a story that's easy to follow — a play people can relate to, as we have all had a close connection with a pet at one time or another in our lives. The impact an animal can have on us is truly touching. I had (as well as the other cast members) several people coming to me after the shows saying how beautiful the play was and how touching it was, and yes, they DID cry. It's a wonderfully written play and it felt very rewarding to have been able to been a part of bringing it to real life on stage.
We did the play in a few different locations and slightly different stage set ups. The relationships with the characters did not change at all and we were able to adapt to the different locations relatively easy.
YURI TAJIRI, "Dani"
I really enjoyed getting to embody the role of Nurse Dani. "Dinners with Augie" is a show that takes place on the border of waking and dreaming – a place where synchronicity abounds. Dani has an intuition about Arthur and quickly forms a connection with him. Dani and Tom's time with Arthur is brief, but deeply impactful on them both as individuals and as a couple. Augie is an intimate show — it's not about spectacle or a set of costumes – just characters and emotions and relationships.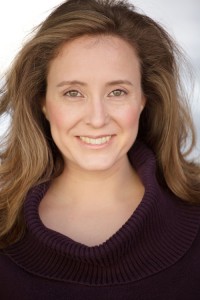 ELISE HODGE, Director
This gentle story really touched our audiences. It was a joy to watch these actors bring such life to this subtle play, with grace and charm which is inherent in the words written by playwright Scott Charles. The unique venue made it all the more fun for the audience. A very intimate space — it allowed us to really interact and connect with them. No fancy staging, no lights, just story telling, revealing our hearts. A lovely little show with lots of love attached to it. Proud to have taken part in it.
LAURA LUNDY-PAINE, Founder & Lead Producer, Blue Panther Productions
Blue Panther produced Scott Charles' "Dinners with Augie" in 2015 at two different Sacramento venues. With an outstanding cast, directed with precision and grace by director E.M. Hodge, the production sold out every show. The audience responded powerfully to this tender and insightful story about a man's final days, posting personal
reactions and asking for a remount of the production even now, one year later. Arthur enters a hospital in deep contemplation, wondering how to account for his life. While in a dream state — or perhaps altered reality — he experiences a series of unexpected encounters with a long-lost, beloved friend. Arthur takes a psychological and emotional journey that allows him to make peace with himself, experience exuberance and joy, and finally, to release. A deeply sensitive play with universal themes of family, love, and loss.
Augie Himself 🙂

Augie Guarding The Chair